Welcome mandolin students...
This is Tim, thanks for stopping by!
I have exciting news for you. I've created an original method to teach you my style of mandolin. And I've built an online mandolin school where I provide 24/7 access to YOU: Tim's Mando Lessons.
Tim's Mando Lessons is an organized archive of video lessons, 300+ so far, with new ones coming each week. Learn swing, irish, fiddle tunes, klezmer, classic rock, classical mandolin, beginner through advanced music theory and much more.
From now on, all of my teaching takes place over at www.timsmandolessons.com. It would be my pleasure to welcome you aboard as an Annual Member.
Members work at their own pace on the video lessons.
I teach a Live Q&A class weekly, and I moderate a Community Forum, so you can always ask me anything for no extra charge.
Annual Members can schedule private lessons with me anytime directly from the site. 
Please contact me directly if you have questions or would like a brief Zoom tour of all the resources I've created for you.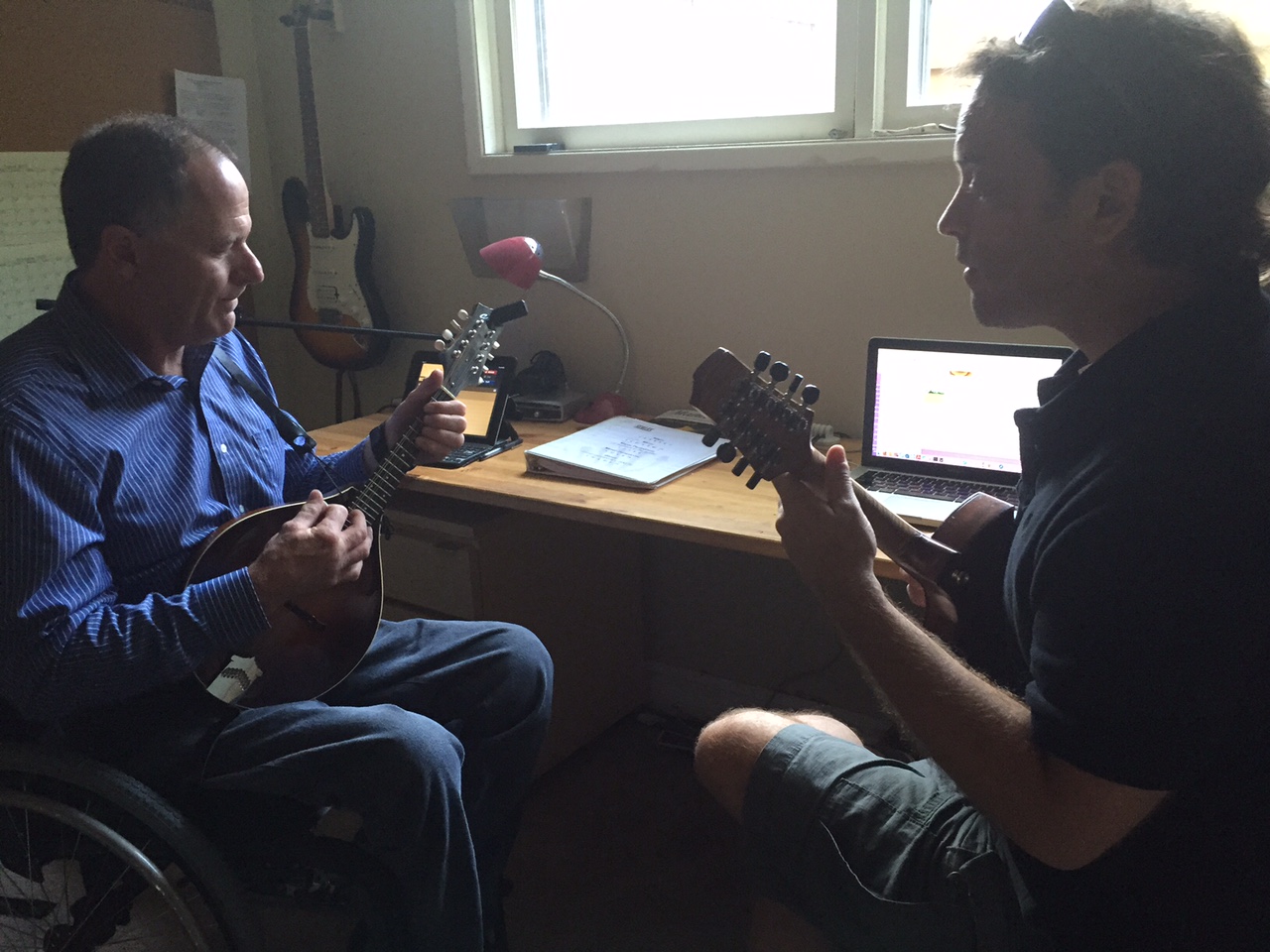 Tim offers private mandolin lessons exclusively to Annual Members of Tim's Mando Lessons anywhere in the world via Zoom, Skype or Google Duo.
Please contact Tim if you have questions after checking out www.timsmandolessons.com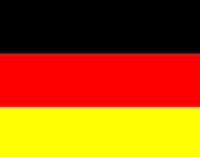 Strange but true: Tim also speaks German and offers online lessons auf Deutsch.


Testimonials from Tim's students
"Tim is a patient knowledgable, enthusiastic and extremely supportive mentor.  When I met him a year ago, I could read music but could not play a chord or accompany anyone to save my life.  After a year of weekly Skype lessons, I am leading gypsy-jazz jams, improvising over chord progressions and playing chordal backing - and I can't help, but grin from ear to ear!  I am getting my money's worth with his lessons.  Thanks, Tim!!!"
Amanda Schrader,
Manchester, NH

"Tim has been a dream mandolin teacher!  He is prepared for lessons and keeps my son challenged and moving ahead.  Love what I hear coming out of my son's mandolin!"
Kelly Morgan,
Seattle, WA

"As a practicing professional musician, Tim's playing is phenomenal. What is rare is that because he also spent many years as a school music teacher, he can actually translate what he is doing into terms that I can understand and he invents useful frameworks and drills.  As a music conservatory graduate, he has complete mastery of music theory and can explain all the whys.   Tim can teach a wide variety of musical styles and he is a veritable fountain of musical and pedagogic ideas."
Steve Tufte,
Portland, OR
"Tim's teaching style leaves no doubt that, with patience, practice, and a sense of humor, I will continue to improve my mandolin playing."
Farida,
Seattle, WA
As both a master educator and a mandolin virtuoso, Tim is revered for his effective and entertaining workshops on the mandolin, music theory and improvisation.  Drawing on an early grounding in music theory, comprehensive experience as a working musician and 17 years of public school music teaching, Tim efficiently and energetically conveys complex musical ideas to students of all ages and skill levels.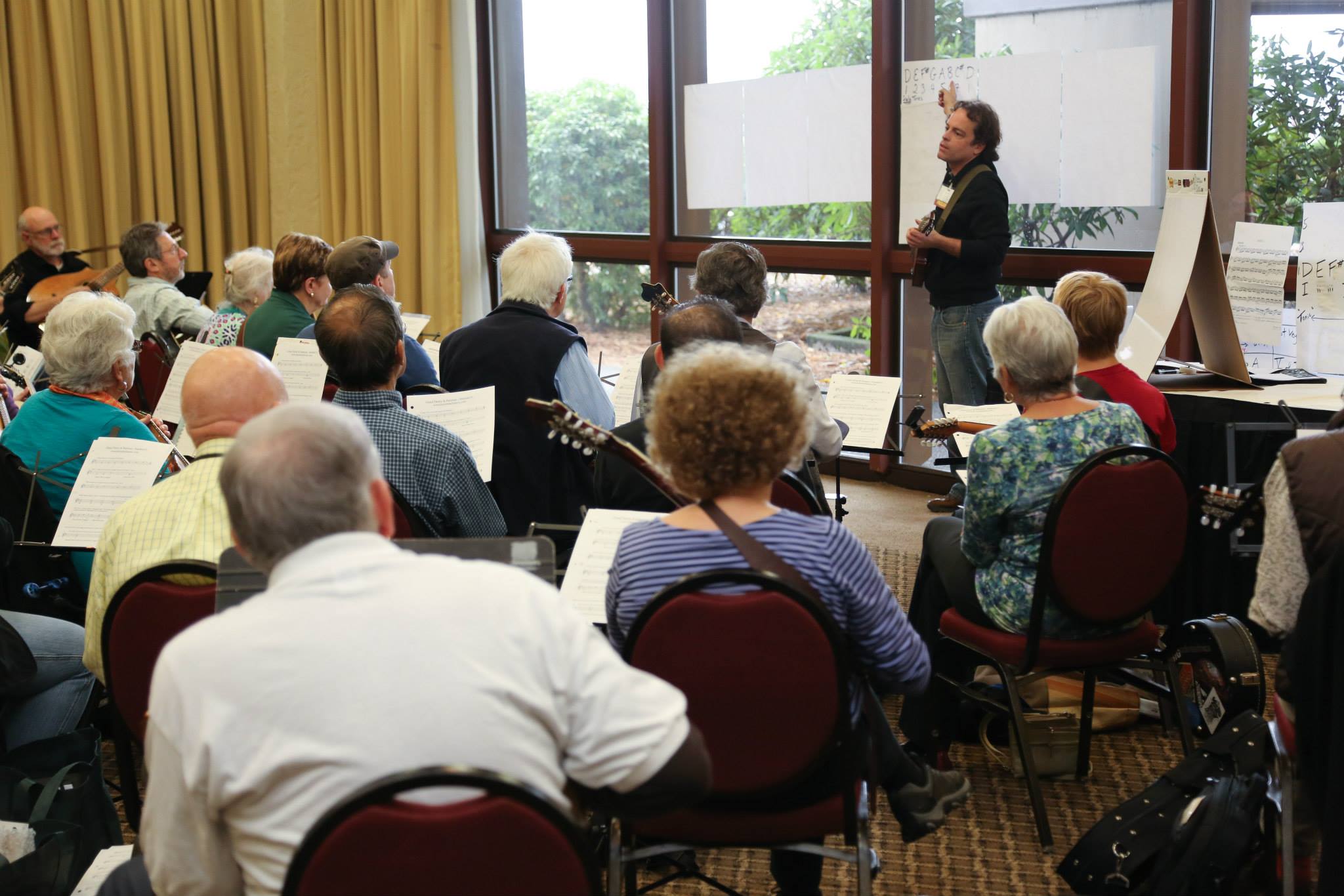 Tim thrives in the music camp setting, having taught at the Mandolin Symposium, River of the West Mandolin Camp and Wintergrass among others. To quote Tim: "I adore music camps - both when I attended them as a student and now that I am a teacher/performer. They are my favorite places to be, and I work hard with a lot of joy when I'm on faculty at one."
Popular workshops include: Mandolin Chords; Gypsy Jazz Mandolin; Intro to Brazilian Choro; Irish Music for the Mandolin; Jazz Chord Ear Training; Chord Theory for the Classical Mandolinist.  Download a
full list of workshop descriptions
or 
email Tim
 to book him for a private workshop or camp. 

Testimonials on Tim's Workshops

"I've attended hundreds of music workshops and many of them have been Tim's - he is one of the best workshop presenters out there.  Whether it be technique, theory, improvisation or repertoire, Tim is always prepared. He has a firm grasp of what he wants to cover, provides handouts in class, PDFs and audio examples online after class, and presents content in an understandable way, working from the basics to the advanced.  If you have a chance to take a lesson or workshop with Tim, I highly recommend it."
Joel Schmidt
Seattle, WA

"With many, many workshops and lessons from Tim under my belt, I am still coming back for more, and in some cases I keep coming back to the same workshops I've done previously. Why? Because at the end of the day I walk away with something new and I have a great time. And, best of all, I have made considerable progress as a player. Highly recommended!
David Darr,
Seattle, WA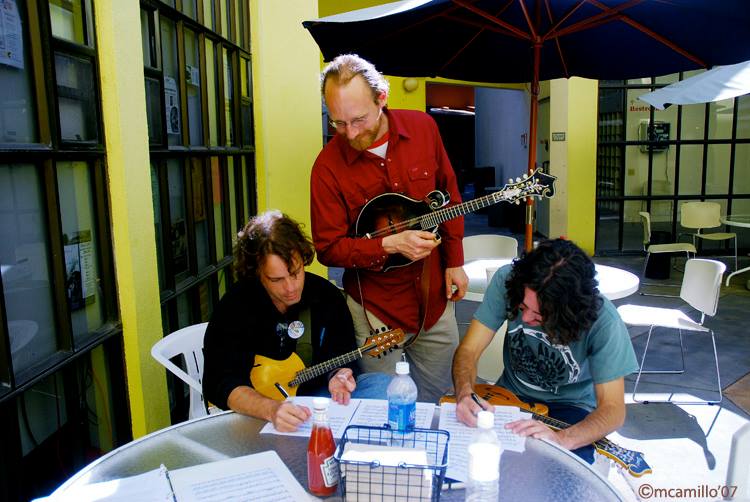 Tim offers ensemble coaching for both professional and amateur groups of all styles and instrumentation.  Ensemble coaching can include any or all of the following: cleaning up or creating arrangements; working on the ensemble's groove, helping bands improve their sound and overall vision and cleaning up arrangements as they head into the recording studio. Please
email Tim
 to set up a coaching session.
Testimonials from Ensembles
"What a great investment! Tim saved us precious time and money, before we ever set foot in the recording studio. He's got the ear to identify where we needed to tighten things up, and a knack for arrangements, the groove of the tune and what really captivates the listener. Tim had us playing our best, and it shows on our debut album."
Tom Pinit, bandolim
Choro da Alegria
Portland, OR
"Working with Tim Connell was simply inspiring!  His ensemble coaching encouraged us to think outside the box with our arrangements and approach.  We have since recorded a feature album that captures his insightful musical ideas.  On a personal level, Tim has a warm disposition and can make his students feel welcome and comfortable."
Rosalynn DeRoos,
Clarinet, Choroloco

"Tim did a great job at helping us arrange some of our songs as we transitioned from a full band to a duo. He always came prepared to lessons with lots of notes & ideas for the songs."
Jess Anderly and George Veech,
The Strangled Darlings

"Working with Tim gave us exactly want I wanted: feedback on our strong points as well as things that needed tightening up. He is very imaginative and creative and gave us great ideas on our arrangements.  I recommend him highly!"
Pam Beatty, 7-string guitar,
Choro da Alegria

"Tim is a gifted musician and teacher.  He does what good teachers do: identifies where the students are, skillfully meets you there and helps move you forward.  He gave our ensemble great feedback on what was working and how we could move each tune up a notch!"
Brett Dodd
Choro ensemble
Spokane, WA